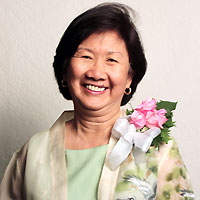 Current Ministry Location: Panama 
Born in the Philippines, Sister Jocelyn, "Joji" as she is fondly called, entered Maryknoll on August 26th, 1989, from Santa Rita Parish in the Archdiocese of Manila. She graduated from Maryknoll College High School in the Philippines in 1975. Sister Joji received a B.S. in psychology from the University of the Philippines in 1979 and her M.D. degree from the University of the East – Ramon Magsaysay College of Medicine in Quezon City, Philippines, in 1985.
Sister Joji left a good job with the government to help Maryknoll Sisters serving in integrated rural pastoral health programs. This experience of working with the poor convinced her that Maryknoll was the right choice for her. Sister Joji made her First Profession of Vows on November 4th, 1991, at Maryknoll, NY, and her Final Vows on May 15th, 1999, in Quezon City, Philippines.
Sister Joji served briefly in the Maryknoll Sisters Center in NY, from September 1991 to May 1992 in our direct mail office. In 1992, she received her first mission assignment to Panama, departing on July 1st.
After language study for six months in Cochabamba, Bolivia, Sister Joji began her ministry in the Santa Fe district of Darien, Panama, in 1993, Sister Joji focused on primary health care and pastoral work in the vicariates' 24 communities.
Trained as a medical doctor, Sister Joji also served at the Sisters' pastoral care center, which gives workshops on integrated health and nutrition, organic agriculture, small project administration, and the family. Besides Christian formation and education, the center also has a model farm, conserving some 96 acres of the surrounding rainforest and letting it grow back with native plants and animals.
In the rainforest, Sister Joji uses her skills as a doctor to help farmers find and cultivate medicinal plants. There are some 15 family farms that produce and process medicinal plants and market them. They also make medicinal tinctures, soaps and essential oils.
Sister Joji also started a small savings and loans association to help members develop their farms and produce their own basic foods in addition to the medicinal plants. Health education now includes environmental education and alternative means of production through organic farming practices (composting, crop rotation, use of natural fertilizers and natural herbicides), processing and commercialization.
The people often ask Sister Joji, "Why did you go to a place like Darien, so far from your own family and friends?" And her answer is, "It's because of you people and Darien itself."