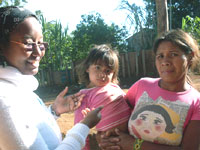 Sister Mercy Mtaita
Current Mission Location – Maryknoll Sisters Center- Maryknoll, NY
Mercy Mtaita was born April 6, 1976 in Dar Es Salaam, Tanzania to Emerensiana Callist (Ngowi) Mtaita and Callist Mtaita of the Chagga tribe. She had 2 brothers: Marco and Mathew, and one sister, Mary. Mercy graduated from Morogoro Secondary School, Morogoro, Tanzania.
Sister Mercy received her Certificate in Elementary education from Mandaka Teachers Training School in Moshi, Tanzania in 1996 and continued her education at Bigwa Sisters School of Advanced Studies in Morogoro, Tanzania. She specialized in History, Geography and Language earning an Advanced Certificate in 2000. She did pastoral work in St. Mary's Parish, taught in Murigha high school and at the Children's Care Academy, in Morogoro.
After studying, teaching and discerning about her vocation as a missioner, she joined the Maryknoll Sisters August 11, 2001 at the Center in NY. She pronounced First Vows September 7, 2003 at the Center.
After a period of formation and First Profession of Vows, Sister Mercy was assigned to Brazil in 2004 where she served as part of a pastoral team of Maryknollers. In Joao Pessoa she provided Afro-Brazilian women with livelihood skills and did popular education with theater, using the talents of her youth club. In Sao Paulo she fulfilled a long time desire when she began work with the Guarani Indigenous people in the village of Jaragua on the outskirts of Saol Paulo. Accompanying the women and children, she focused on learning their traditions and culture.
In 2009, Sister Mercy and four other Sisters reflected together on their experiences in mission and prepared for their Final Vows to live the rest of their lives as Maryknoll Sisters. Accompanied by her mother and father, Sister Mercy professed her Final Vows August 16, 2009 in the Maryknoll Sisters Chapel, NY.
Back in Brazil Sister Mercy continued working with the Guarani Indigenous as well as Afro-Brazilians. Her focus was on women and community building. With the Guarani women she accompanied the mothers and their children at the same time. She learned from the women how to make Guarani bread and the women learned how to make clothes with a sewing machine. She continued to learn the language and culture in order to share the lives of the people.
Sister Mercy took a break from Brazil to study at Barry University, Florida, where she earned a Bachelor of Science-Leadership Training in 2015 and a Bachelor of Science-Social Work in 2018.
Following the study break, Sister was assigned to be Coordinator of the Sisters in the Chi Rho community at the Center so returned there to take up her new post. She was also given the task of planning and arranging the annual Jubilee Mass and celebration for those Sisters celebrating 60, 70 and 75 years since entering the Maryknoll Sisters Congregation.