When Sister Mercy Mtaita talked to young people in her Tanzanian homeland, she said most thought mission was for whites only. They didn't know that Africans can be missioners to other cultures.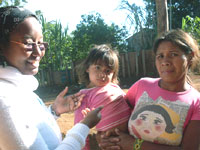 Sister Mercy was born in Dar es Salam of the Chagga tribe. After studying, teaching and discerning about her vocation as a missioner, she joined the Marykoll Sisters in 2001.
Sister Mercy received her accreditation as a teacher from Mandaka Teachers Training in Moshi, Tanzania, and continued her education at Bigwa Sisters High School of Advanced Studies in Morogoro, Tanzania, where she specialized in History, Geography and Language. She did pastoral work in St. Mary's Parish, taught in Murigha high school and at the Children's Care Academy, in Morogoro.
After a period of formation and First Profession of Vows, Sister Mercy was assigned to Brazil in 2004 where she is serving as part of a pastoral team of Maryknollers. In Joao Pessoa she provided Afro-Brazilian women with livelihood skills and did popular education with theater, using the talents of her youth club. In Sao Paulo she was able to fulfill a long time desire when she began work with the Guarani Indigenous people in the village of Jaragua on the outskirts of Sao Paulo. Accompanying the women and children, she has focused on learning their traditions and culture.
Sister Mercy and four other Sisters have reflected together on their experiences in mission and prepared for their final vows to live the rest of their lives as Maryknoll Sisters. Accompanied by her mother and father, Sister Mercy chose to profess her final vows in the Maryknoll Sisters Chapel, NY on August 16, 2009.
Back in Brazil Sister Mercy continues working with the Guarani Indigenous as well as Afro-Brazilians. Her focus is on women and community building. With the Guarani women she accompanies the mothers and their children at the same time. She learned from the women how to make Guarani bread and the women learn how to make clothes with a sewing machine. She continues to learn the language and culture in order to share the lives of the people.