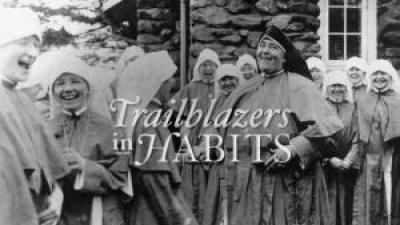 "Trailblazers in Habits", a 90-minute film documenting the pioneer work of Maryknoll Sisters, the first U.S.-based congregation of Catholic women religious dedicated to foreign mission, will be shown Friday, March 27, 2015, at 7 p.m. in the Asia Room at Maryknoll Society Mission Center, 55 Ryder Road, Ossining, NY.   Sisters featured in the film will be on hand to greet attenders and will answer questions following the showing.  Doors open at 6:30 p.m. Admission is free. Light refreshments will be served.
"Trailblazers in Habits" tells the story, in the Sisters' own words, of the congregation's work in education, healthcare, and the cause of social justice. A moving and absorbing chronicle that spans 100 years and several continents, the film celebrates the intelligence and tenacity, the love, compassion and generosity of these early feminists. The premiere coincides with the Maryknoll Sisters' Centennial year.
Production of the film was almost entirely funded by donations from the thousands who attended Maryknoll schools around the world. Maryknollers wanted a way to tell the full story of the Sisters' contributions to their communities, from the building of schools and hospitals around the world to helping lay the foundation of Hong Kong's social welfare system.
By turns tragic and joyous, yet always inspirational, this insightful documentary by award-winning director Nancy Tong, is a revealing portrait of these courageous women and a timely testimony to the Sisters' lifelong dedication to helping the disenfranchised.
For more information, please contact Sue Palmer, Communications Manager, at 914-941-7575, ext. 5687 or by e-mail at [email protected]